Deluxe Elastic Ankle Support
Ideal for warm weather climates or patients allergic to neoprene
Ideal Application
The Deluxe Elastic Ankle Support is a neoprene alternative, constructed of heavy-duty cotton elastic. It's ideal for warm weather climates or patients allergic to neoprene, for mild soft tissue injuries and arthritis.
Features and Benefits
Heavy duty cotton elastic
Breathable
Posterior malleolar "J" buttresses for added compression
Shop our complete selection of ankle braces or browse additional DonJoy products.
The ankle brace is easy to put on my foot - but, it's VERY DIFFICULT to take off. Is there a trick to removing the elastic ankle support?
Question by: Aphrodite Caserta on Aug 29, 2011, 7:27 AM
if you are having a hard time taking this off, it may not be the correct size for you. I would suggest going up a size.
Answer by: Admin on Aug 29, 2011, 7:27 AM
I've had my ankle scoped twice. It's very unstable now. It's also the weight I transfer to on my golf swing. I need a brace that will keep the ankle stable during a turn and support as my weight goes on the ankle.
Is there a chance this one will work? Also, do people run with this brace on? I was a runner, would like to be again but haven't found anything to support the ankle stability. The braces in the stores are not even close to what I need. Thanks
Question by: rick on Jan 11, 2014, 11:34 AM
Answer by: Admin on Jan 11, 2014, 11:34 AM
Can you wash the Deluxe Elastic Ankle Support in the washing machine?
Question by: Daniel Dwyer on May 25, 2011, 6:22 AM
Hey Daniel,
It is Not Recommended to wash this in the washing machine. It should be washed by hand in the sink with light deteregent and air dried.


Thanks
Answer by: Admin on May 25, 2011, 6:22 AM
My 30-year-old injury is on my left ankle. All photos show the ankle support with the J on the outside of the right ankle. Does the ankle support fit both sides, or do I need to order the left ankle special?
Question by: Cary on Apr 19, 2014, 8:31 PM
Cary
The J is on both sides of the sleeve so the sleeve will fit both ankles
Answer by: Admin on Apr 19, 2014, 8:31 PM
I Have OA in my right ankle from a tramatic compound fracture many years ago. My doctor is suggesting surgery to " clean out" the calcification in the joint. I want to delay this procedure as long as possible. Would this ankle support benefit me for temporary relief? I have pain and swelling in the joint, and at times it just seizes up and won't even bend to walk. I then need to use an ice pack and avoid walking for awhile. Thanks for any recommendation you can give me.
Question by: Bonnie L. Mau on Aug 12, 2013, 8:13 AM
Hello Bonnie,

This ankle sleeve will provide compression and support to the ankle. This will help with the swelling.

Thanks for Contacting Donjoy.
Answer by: Admin on Aug 12, 2013, 8:13 AM
Measurement: taken above medial/lateral malleoli.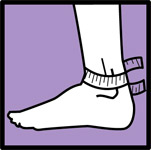 | | |
| --- | --- |
| Size | Ankle Circumference |
| S | 8" - 9" |
| M | 9"- 9 3/4" |
| L | 9 3/4"- 10 1/2" |