OA Adjuster™ 3 Knee Brace
The OA Adjuster™ 3 is powered by nano MAG™ and reinforced with a tough aluminum frame making it durable and functional.
Alternative Product Solutions
View Details

On Sale

0

%

Off

Save

$0.00

Custom fit, lightweight titanium brace offers our top ACL protection for non-contact sports and some football positions.
Mighty. Tough.
Designed for moderate to severe, unicompartmental Osteoarthritis. The OAdjuster is recommended for ligament instabilities and post-operative rehabilitation.
The improved OA Adjuster™ 3 is powered by nano MAG™ and reinforced with a tough aluminum frame making it durable and functional.
Features and Benefits:
Adjuster Technology
Provides the highest average amount of condylar separation. (Komistek Study—head-to-head comparisons of commercially available OTS OA knee braces.)


Lightweight and Tough
The combination of the durability of aluminum and leveraging the strength of nano MAG™ make it lightweight and tough.


Functional Comfort
Sleek design combines a new calf contour design and an evolution in nano MAG material science.


4 Points of Leverage™ System
Pioneered by DonJoy, it provides ligament stability with:

1. anterior thigh anchor
2. posterior tibia anchor
3. lower thigh strap pushes femur anteriorly
4. anterior tibia strap applies an active constant load to prevent anterior tibial translation.


Contoured Calf Cuff
The posterior calf cuff is contoured to enhance overall brace suspension for various levels of activity and it is designed to fit a variety of body shapes and sizes.



Commended for Ease-of-Use by the Arthritis Foundation

The OA Adjuster offers "Progressive Loading System", providing an integrated patient-controlled load adjustment. The Bi-Axial hinge allows for a double upright design to contour to the leg and fit comfortable, without migration. The Load Sensor, a DonJoy exclusive, helps to determine the forces being applied by the brace.
What is Osteoarthritis (OA)?
Arthritis refers to more than 100 diseases that affect the joints and their surrounding tissues. Osteoarthritis, or OA, is the most common form of arthritis. The statistics on OA are staggering:
Nearly 21 million people in the United States have OA*
The incidence of OA is expected to increase even more as the U.S. population ages*
Over 7 million Americans are limited in their ability to participate in their main daily activities because of their arthritis*
The joint most often affected by osteoarthritis is the knee. Knee OA is caused by the degeneration or breakdown of articular cartilage that covers the ends of the bones that meet at the joint. Cartilage serves as a cushion between the bones, providing a smooth surface for the bones to move against each other. When the cartilage deteriorates the bones may actually be rubbing together. Your physician will often refer to this as "bone-on-bone" osteoarthritis.
*Arthritis Foundation
What is Osteoarthritis (OA) knee bracing and how does it work?
Osteoarthritis (OA) knee braces stabilize the joint, help reduce pain which allows patients to return to the activities they love. Load redistribution and joint alignment through a process called "off-loading" or shifting, OA braces help relieve pain by redistributing the weight bearing load on the painful or affected compartment of the joint to the healthy or unaffected compartment. Increased function studies have shown that wearing an OA brace can increase daily functions and help decrease pain.
What to expect from a Osteoarthritis (OA) knee brace
Braces cannot cure OA and may not be right for everyone. However, it is a viable solution for many people. The ideal candidates are typically active people who are motivated to strengthen their muscles and willing to wear a brace to realize the benefits of this form of support.
Discuss treatment goals with your doctor and others on your health care team before you get a brace.
Don't expect a brace to feel good from the start. It may take from a week to a month to get used to how the brace feels on your leg. Be patient. It took a long time for your knee OA to develop.
Bracing has come close to eliminating pain for some people with knee OA, while others experience moderate relief.
***NOTE: This item can take up to 2 weeks to ship***
Shop our complete selection of knee braces or browse additional DonJoy products.
Sizing: Thigh Circumference 6" above mid patella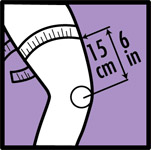 | | |
| --- | --- |
| Size | Thigh |
| X-Small | 13"-15.5" (33-39cm) |
| Small | 15.5"-18.5"(39-47cm) |
| Medium | 18.5"-21&quot (47-53cm) |
| Large | 21"-23.5" (53-60cm) |
| X-Large | 23.5"-26.5" (60-67cm) |
| XX-Large | 26.5"-29.5" (67-75cm) |
| XXX-Large | 29.5"-32" (75-81cm) |