Kallassy Ankle Support Brace
Sorry, this product has been DISCONTINUED.
Provides moderate support for active people or athletes who suffer from chronic ankle injuries.
Extra support to help you prevent rolling your ankle!
Designed by an athletic trainer, the ProCare Kallassy Ankle Support provides excellent control and helps prevent the ankle from rolling over inside the shoe. This ankle support is ideal for athletes and active people who suffer from chronic ankle sprains and instabilities.
The lateral straps keep the ankle locked in a neutral position. These lateral straps are further secured in place with a partial figure-8 medial strap and a high ankle cuff closure that ensures the "lateral strap" stays in place.
The low profile design of this ankle support makes it easy to fit in any athletic or even dress shoe. Easy to apply, all you need to do is secure the velcro closures in the front. We find the front closure to work a little better than the slip-on design and it can be easily adjusted without removing the shoe. It's also faster to apply and more economical than constantly taping your ankle!
Constructed of a durable, ballistic nylon for long lasting wear. Nylon lined neoprene provides warmth and compression, yet allows for full dorsal and plantar flexion.
ProCare Kallassy Ankle Support is used with:
Grade I or II Ankle Sprains
Chronic Ankle Instabilities
Recurring Ankle Injuries
Product Features…and the benefits you'll experience!
Non-Stretch Lateral Straps
Your ankle is properly supported so you reduce the chance of rolling your ankle.
Medial Strap Supports
Enjoy extra support in your arch and resists pronation of your ankle joint.
Coated Fabric
Makes your brace more durable and lasts longer.
Durable Nylon Construction
The nylon is lined with neoprene to provide warmth and compression, while allowing for full dorsal and plantar flexion.
Sizing and Measurements
Click on the Size Chart tab above to learn how to measure your ankle to determine what brace size you need.
Shop our complete selection of ankle braces.
can you wear regular shoes with this? I am looking for something that I can wear daily with my regular shoes to prevent my ankle from rolling. I have chronic problems with that and need something to wear daily that will help prevent this. Any suggestions would be most appreciated. Thank you.
Question by: Lynn on Nov 23, 2010, 9:17 AM
Yes, you can wear most shoes with this ankle brace. It will add some bulk as does any ankle brace, but the Kallassy ankle brace is one of the thinner ankle braces on the market. In general athletic or walking shoes will be most comfortable. Dress shoes that fit tighter will be more snug.
Answer by: Admin on Nov 23, 2010, 9:17 AM
Would you say this is the best ankle brace you have for a basketball player who has sprained both ankles before?
Question by: Alex on Jul 21, 2014, 4:14 PM
Answer by: Admin on Jul 21, 2014, 4:14 PM
Does this brace also tie up with shoelaces or is it secured with all velcro? How do you put it on? Thanks.
Question by: Nancy on Mar 28, 2012, 8:19 PM
It is secured with velcro, no laces.
Answer by: Admin on Mar 28, 2012, 8:19 PM
How high above the ankle does the Pro Care Kallassy & the Aircast Airsport come in the medium?
Question by: Barbara on Aug 30, 2013, 12:44 PM
This brace is 8 inches tall. How high it goes past the ankle would depend on how long your shin is.
Answer by: Admin on Aug 30, 2013, 12:44 PM
My eight year old daughter (who wears a size 1 1/2) is in pain after every soccer practice/ game. Would the XX-Small work for her?
Question by: Becky on Sep 18, 2013, 5:37 AM
Becky,
She may be too small for one of our braces. I woudl try the 2X, with better braces you do have a 90 day policy if it didnt work you could return it.
Answer by: Admin on Sep 18, 2013, 5:37 AM
Measurement: For proper size, measure the circumference of the ankle taken above medial/lateral malleoli.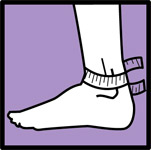 Size
Ankle Circumference
XXS
6"- 7 1/2"
XS
8 1/2"- 9 1/2"
S/M
9 1/2" - 10 1/2"
L/XL
10 1/2"- 11 1/2"
XXL
12 1/2"- 13 1/2"